SWC offers live, uplifting interactive and transformative experiences so you can feel more centered, grounded, empowered and informed.
Earn your "PHD" in Personal Higher Development in the classes, workshops and courses of our online "university."

Move your body, calm your mind and nurture your soul in our Body●Mind●Soul program.
Our Goal
We bring together individuals who want to raise their vibrations, nourish their hearts and souls through conversations that matter and take a deeper dive into higher learning.
Our classes, workshops and courses are an opportunity for you to create a positive ripple effect that will extend from you to your family, friends, co-workers, community, even the world!
Denise Ganz didn't know where her path would lead when she embarked on a very personal journey of spiritual and personal growth. It was the life or death experience of one of her children that led Denise to find a bigger meaning and purpose in her life.
It began with meditation and led to an exploration of all types of metaphysical learning, including yoga, mindfulness, meditation techniques, reiki, astrology, numerology, and yoga philosophy. Along the way, Denise became an activist, working to change our system for the better through education and advocacy.
While she prayed for guidance on how to put all of what she had learned into practice, the Sattva Wisdom Center slowly came into focus. SWC started from her home in Florida, with the intention to be a place of higher learning, where people can join together in connection and community.
Denise has assembled a great faculty of wise and experienced teachers who bring all types of enlightenment to SWC, so that participants leave feeling grounded, centered, inspired, informed and empowered. Now fully online, SWC's reach continues to grow.
Denise is a practicing attorney, has a 200-hour teacher certification, a meditation training certification from Ishta Yoga in NYC and is certified in mindfulness based stress reduction (MBSR) techniques. She also has a reiki mastership, has taken courses in meditation techniques with Tara Brach and Jack Kornfield, studied Sanskrit and yoga philosophy, astrology, the chakra system and aromatherapy, and completed an intensive workshop, Off the Mat Into The World, with Seane Corne, Hala Khouri and Suzanne Sterling, that encourages yoga practitioners to make a positive difference in their communities. Denise is also a leader of Palm Beach Indivisibles, a non-partisan progressive grassroots political activism group.
FAQs
Curious about Sattva Wisdom Center? Find out more about SWC's special and unique offerings. Your welcome awaits!
What is the goal of SWC?
---
To provide a safe, welcoming online community where you can find like-minded people as we explore different ways to raise our vibrations and make our lives more fulfilling, rewarding and grounded.
---
What makes SWC's teachers different?
---
Our regular and guest faculty members each have many years of experience in the fields in which they teach and expert credentials. All are constantly students themselves and continue to learn and expand their own knowledge and are excited to share it with our students!
---
How does SWC select the charitable organizations to which donations are made?
---
Typically the teacher gets to pick a favorite or the Wisdom Yoga Collective members get together and decide. For now, we are supporting the Palm Beach County Food Bank, since so many are struggling due to the pandemic.
---
What is the SWC Wisdom Seekers Facebook page?
---
It is a closed group page just for SWC, where we can connect and stay up to date on everything going on at the Sattva Wisdom Center. You will also see Facebook Live videos from our teachers with brief yoga practices, meditation and breathing exercises, sound bowls and other special treats!
---
How to register for a class?
---
Click on the calendar and choose either a Body•Mind•Soul class or a PHD class. It will then take you to create an account if you don't have one. See the detailed video HERE.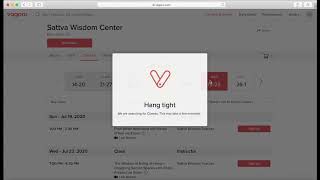 ---
If I can't make it to a class what happens?
---
Daily Classes: A 2-hour notice of cancellation is required to receive a full refund, less any service fee charged by the credit card processor.
Workshops and Events: A 48-hour notice of cancellation is required to receive a full refund, less any service fee charged by the credit card processor.
---
How do I get my link for the online class?
---
Once you register you'll receive a link automatically. Please check your spam if you don't receive it. Also, please make sure you put the correct email in the system so that it ensures correct delivery.
---
---
About our name and the tree in our logo
In Sanskrit, "Sattva" is the quality of goodness, positivity, truth, serenity, balance, peacefulness, and virtuousness that is drawn towards "Dharma" (finding your own path and purpose) and "Jnana" (knowledge).
On the logo of SWC is a tree, whose roots and branches represent the connection of all living beings to one another and to the universe ("as above, so below").